JUICE FAST CLEANSE AND BALANCE YOUR BODY IN THE "PEACE VISTA" COUNTRY
Reclaim your vital energy and feel alive again!
Cleanse your body and soul in the wild nature of the Golan Heights.
 A long weekend of organic juice fast, yoga, breathing exercises, aquatic therapy and relaxation.

THE PEACE VISTA COUNTRY LODGE | KFAR HARUV - SOUTH GOLAN HEIGHTS JUNE 04th – 06th, 2023
Why Should You Choose This Retreat?
After a sweaty summer and right before Rosh Hashanah – the upcoming fall is the perfect chance for renewal!
The retreat is a wonderful opportunity to embark on a journey towards increasing your energy and vitality. It will help you lose weight and form long-term habits of eating healthy, well balanced meals.
It is a break from your busy schedule which allows you to pause and relax…
It will allow you to nourish your body with organic juices enriched with superfoods, learn the necessary skills and acquire the knowledge that will allow you to incorporate healthy lifestyle principles into your daily routine, relax your body through water, sound and breathing therapy in salt water pools, enjoy spa treatments, practice yoga, and just walk and experience the wild nature.
You will be able to do it all in a small, supportive and productive group, with the close guidance of Umina and in an inspirational location.
Why Is It Important to Detox?
Healing More than 80% of the various diseases that occur in our body happen because of the toxins that accumulate in our body over time. The toxic residue is the ideal substrate for harmful bacteria, parasites and fungi. The blood that passes through the intestines (where most toxins accumulate) carries the toxins through the bloodstream where they cause irritation wherever they pass through. As a result, unnoticed inflammation begins to build up in the body's tissues. This inflammation has a negative effect on a person's general health condition and it damages the weaker organs first. Recuperation Detoxification is the oldest and most effective method of natural self-healing.
Since the dawn of time, many cultures have been using detoxification to treat themselves; from Ancient Egyptians and Greeks to the Yogis in the Himalayas.
The human body is an ingenious system capable of curing itself from almost any disease through a proper cleansing process. Even chronic diseases and cancer are being treated by deep detoxification… Weight Loss The process of cleansing the body is like a reboot of the system.
If you're overweight and your diet is low in nutritional values and based on industrial foods, you will likely lose one pound a day. We believe that the cleansing program is the best way to change your diet and lifestyle. After the detox, if you continue to eat healthy nutritious food, work out and keep a balanced lifestyle, you will continue to lose weight.
Organic Juices for Deep Nourishment A diet based on juices prepared from organic fruits and vegetables only. The juices are cold-pressed and enriched with several of the most potent superfoods on the planet which provide your body with all the nutrients it needs.
Rejuvenation through Aquatic Therapy Daily two hours of floating in salt waters and participating in breathing, sound and movement therapy. Aquatic therapy assists skin rejuvenation, joint mobility, blood circulation, detoxification and complete relaxation.
Yoga, Spa Treatments, Sound and Breathing A specially designed yoga sequence which helps encourage the body to detox while focusing on the digestive system. There will also be daily walks in the wild nature, breathing exercises and sound therapy in order to unwind and meditate.
The World of Superfoods Umina, author of the book Superfood: A Gateway to a New Cuisine, will demonstrate how to prepare shakes based on superfoods, while you will learn how to make a nutritious and tasty superfood shake at home. These techniques will help you learn how to easily prepare tasty and potent superfood dishes at home and how to incorporate these medicinal foods into your daily routine.
Learning the Way of Natural Healing Daily classes on various subjects such as the power of natural healing, the digestive system and a well-balanced diet, different food combinations, the golden rules of nutrition and everything you need to know and do in order to maintain a balanced diet in the long run.
Instructions on how to use a daily enema kit in order to deepen the cleansing.
Implementing the Process into Your Daily Routine You will receive Umina's internet course "The Superfood Kitchen" as well as be invited to a follow-up meeting around two weeks after the retreat ends to make sure you've integrated it into your daily routine. In addition, you'll receive four digital booklets: "Recipes to a New Kitchen", "Superfood Smoothies", "Superfood Ice-creams" and "After Cleansing – The Next Step".
Click here to view the Retreat's full schedule.
For more information and booking please fill in your details below:
*I agree to receive recipes and marketing content via email/SMS and I know I can unsubscribe at any time.
The Detox, Cleansing and Balance Retreat will allow you to:
√ feel positive energy pulsating through your body again
any previous cooking experience.
√ get rid of harmful eating habits and the craving for addictive foods
√ lose weight effortlessly (an average of 4-6 pounds)
√ learn about the world of superfoods and how to implement new healthy eating habits into your daily routine that will not break even after the retreat ends
√ feel and look wonderful
Detox and Cleansing Participants Share
•
"… When I started the detox, I was very skeptical about my ability to last through it as well as about the results. It was a true pleasure to drink the juices (I was even hooked on the less tasty ones) and at the end of the four days I felt light, energetic and happy! I whole heartedly recommend the detox even to those who find it difficult like me and are still not familiar with this wonderful world of superfoods and Umina…"
Miri Mesika, Singer and Actress
•
"… Detoxing with Umina was a phenomenal process! I felt energetic and unbelievably full of life. I felt intense clarity, I'm aware and alert, and grateful that I took part in this detox. I love how easy it was to incorporate it into my busy schedule. I had a very intense experience and I feel renewed. I've already recommended the detox to many other people… I've done several detox programs throughout my life, but Umina's was a real joy…"
Aliza Fregman, M.D, Family Doctor
•
"… The mood was very good. Umina has a deep understanding of many things. Her professionalism gives a sense of security…"
Michal Shalgi-Shira, 42, Architect
•
"… The workshop is wonderful, everything was just the right amount… Umina is truly inspiring, lovely and radiant… The program is well defined and clear which makes it easy to follow through…"
•
"… Detoxing is a wondrous process of giving ourselves a fresh new start. It reminds us that we can feel light and healthy again, that the body knows how to heal itself and that we know what's best for ourselves. Umina does it all with the utmost professionalism and kindness. She breathes life into the words "the power of gentleness". It has been a pleasure to experience this detox with Umina…"
Shai Avivi, 52, Actor and Master-Chef
•
"I enjoyed the professionalism, the great concern you showed to us, the amount of time invested in us. I truly feel that my money has been well spent. Thank you!!…"
Osnat Price, 50, Freelancer 
The Peace Vista Country Lodge | Kfar Haruv – South Golan Heights
The country Lodge is situated on the high basalt cliffs of the Southern Golan Heights. The lodge provides a stunning view point to some of Israel's most wonderful natural sights: Mt. Hermon, the Galilee Mountains, Mt. Arbel, the summit of Mt. Tabor, the fields of the Jordan Valley and the Sea of Galilee (Kinneret) in all its splendor.
In the heart of this magical scenery the Peace Vista offers you a unique experience of leaving behind your earthly self and becoming one with nature. The lodge offers pastoral European-styled wooden cabins, luxurious suites, studio rooms and floating pools carved out by nature itself inside a cave.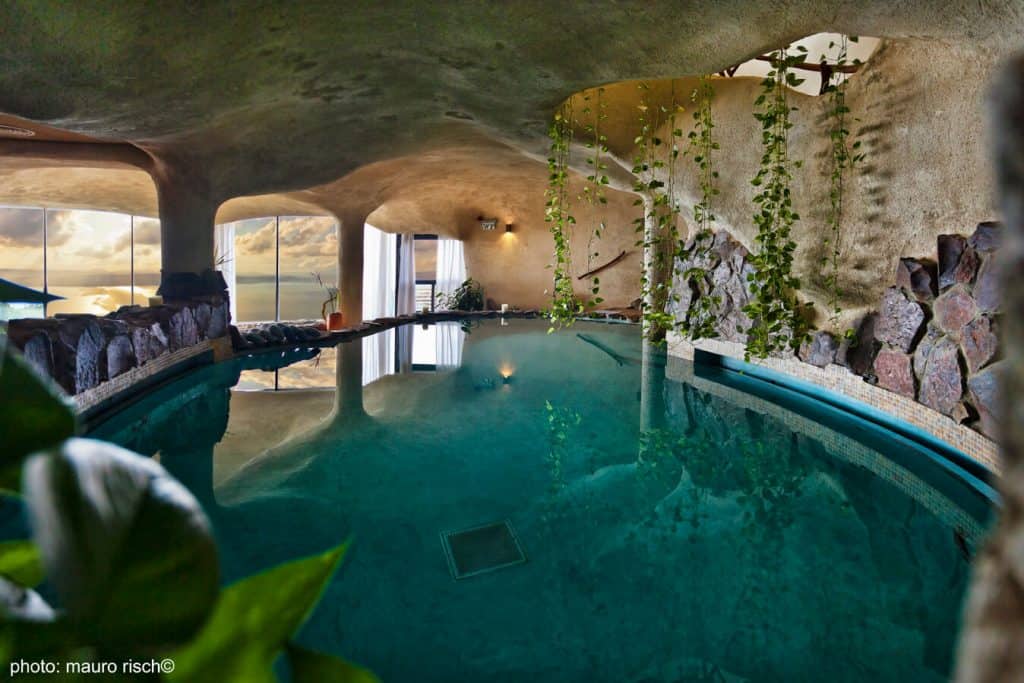 AQUATIC THERAPY IN THE FLOATING POOLS
We all live in a materialistic, competitive and demanding reality that distances us from ourselves and from a natural way of life. 
We are driven by rationale rather than emotion, and this imbalance is a source of many of the problems and difficulties that we experience in our daily lives. 
The detoxification process is a way of regaining the balance that our bodies lost. 
Water is a marvelous world that hides within it forces which can influence people in varied and fascinating ways. 
Aquatic therapy can soften the negative impact our routine has on our lives and prevent it from having a destructive effect on our bodies. It relieves the body of physical and mental stress, improves the general health of internal organs, removes emotional blockages and thus restores a physical and mental balance to the body.  
Jemma Golan Raw food chef and owner of the brand Sweet Health which specializes in healthy gourmet snacks and sweets. Jemma will be in charge of making the shakes, juices and health soups, which will insure that they will all be enriched with superfoods and delicious.
Kento Vit-Mor One of the first practitioners and teachers of alternative medicine in Israel (Zen Shiatsu and Tiwana). Specializes in Chinese Medicine. Has spent the last 18 years mainly in Costa Rica where he learned ancient shaman medicines. During the retreat he would offer in-depth treatments which support the detox process.  
Paz Weheva A registered and certified water therapist by the Worldwide Aquatic Bodywork Association (WABA). Specializes in Watsu techniques that combine movement and breathing exercises in water to promote deep physical and mental relaxation while balancing chi flow and strengthening the immune system. She uses water as a therapeutic space for healing body, mind and soul. 
Nilya Wilad A professional massage therapist who specializes in Ayurveda Yoga – a vigorous rejuvenating massage that includes deep body workout on a mat combined with oil and plant-based exfoliation powder to cleanse the body. During the retreat she would offer in-depth treatments which support the detox process.
Anati Tork Guides spiritual remembrance journeys. Treats through sounds, vibroacoustics and guided singing, as well as practices shamanic healing. Guides inner song workshops, teaches yoga and is a performance artist.
Qori Ilan Ronell
A DJ who specializes in accompanying sacred spiritual journeys. These begin deep within our souls through meditation and move outward into ecstatic wild dancing. Umina and Qori will guide the cacao ritual and party on Friday night at the retreat.
Cyprus Retreat participants share their experiences
•
"… I'm embracing the idea of body and soul combined… Peace of mind, to pause for a second and say thank you for the goodness that surrounds me. I can't believe it's been four days already (and while drinking only juices ☺) It has been enriching, relaxing, educational and full of joy. Thank you! When can I come again??… "
Berta Penso, 30, Project Manager
•
"… I'm embracing my reconnection with my life force, my reconnection with my body. Feeling as if my body is light as air and floating… I simply wish to thank you for a wonderful, precise, professional and enriching workshop. I really liked the yoga classes early in the morning – it was well thought out. I would love to come again in the future…"
Yoram Benyamini, 47, Human Resources Manager
•
"… It has been wonderful and relaxing. You're been wonderful. The place is great, the energies are incredible… I'm embracing the will and confidence to move forward… The realization that I wish to do this [detox] twice a year… I've understood that it can be done easily and happily…"
Galit Hover, 49, Trainer, Host, Banker
•
 "… I've realized that food is an experience all on its own… Pausing and looking inwards have brought me deep into myself. I've gained an understanding about diet as well as life in general… I've given my body a command and it agreed to accept it with love. Together we've walked this road successfully …"
Anat Schneider, 51, Office Manager 
•
"… I've learned how important it is to pay attention to what we feed our body. It is our most precious computer and we need to make sure it runs properly… I've enjoyed every moment. A tremendous experience. Umina is one of a kind, the classes are terrific! The yoga is excellent…"
Aviva Ben-Shlomo, 64, Freelancer 
•
"… I've learned to include superfoods in my daily diet… The workshop's schedule was exactly right for me, the combination of nature with the therapeutic pools, the amazing yoga that we've started each morning with…"
•
"… Wow… This incredible feeling when your body, mind and soul are harmonic and balanced… It was excellent, wondrous, nourishing and fun. Every part of me is thankful to you for this gift that appeared in my life, thank you!…"
Avi Kalstein, 50, Entrepreneur
•
"… Apparently our body can settle for a lower amount of food than what we think it needs. I've opened my mind to concepts I was not aware of before and their importance to my body's health… I've learned a lot of new things that I'm going to implement into my daily routine…"
Shira Avner, 30, Entrepreneur
Book now to receive all of the details
*I agree to receive recipes and marketing content via email/SMS and I know I can unsubscribe at any time.